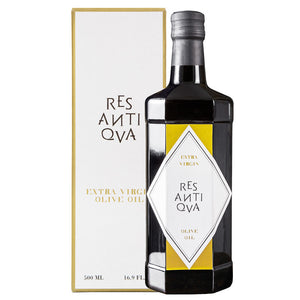 RESANTIQVA EVOO - 100% Italian Extra Virgin Olive Oil - 500ml Classic Diamond Bottle
Sale price Price $33.00 Regular price
Tax included.
If you travel 50 miles north of Rome to the hills alongside Lago di Bolsena, you will find a sanctuary to over 5,000 lovingly nurtured olive trees of ancient varieties including Canino, Frantoio, e Leccino.
To guarantee pristine taste and preservation of anti-oxidant properties, our olives are cold-pressed within four hours of harvest to produce our 100% Organic Italian Extra Virgin Olive Oil.
Our oil "enhances but does not alter" the tastes of all the foods to which it is paired with. Each bottle comes packaged in an individual cardboard box from sustainable paper sources.